Glyoherb Sugar Control Granules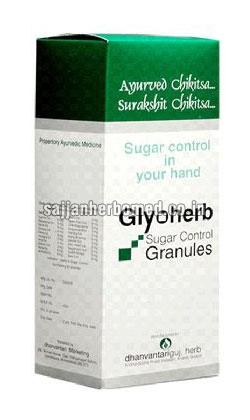 | | |
| --- | --- |
| Business Type | Supplier, Retailer |
Glyoherb Sugar Control Granules are helpful for diabetic patients. We are an unsurpassed Supplier of Glyoherb Sugar Control Granules from Punjab, India. The Glyoherb Sugar Control Granules we make available are highly effective and do not result in any kinds of side effects. To retain the purity and therapeutic properties of the Granules, special care is taken about the packaging. Buyers can obtain the Granules in immaculate quality packaging and at reasonable rates.

Medical Description
Amala Ext. : Contain a lot of vitamin C, Increases resistant power, improving the immunological barrier given along with Haldi in diabetes to lowering blood & urine sugar.
Arogyavardhini : Corrects metabolism, Restores liver functions & General health
Chandraprabha : Tone up whole genitor - urinary-System
Bang Bhasma : Helps in the genitor urinary disorders improve quality of insulin
Daruhaldi Ext. : It helps in Antimicrobial-Anti bacterial reduces muscle cramps and thirst
Gudmar Ext. : It improves activity of B islets of pancreas
Galo Ext. : It has avoidable effects on Glucose tolerance; Glucose up takes Detoxification and hepatic Stimulatio.
Haridra Ext. : Blood purifier Anti inflammatory, Antiseptics to taxiing effects. To lowering down blood & urine sugar given along with Amala in diabetes
Haritaki Ext. : It improves metabolism Effective in Asthma - Diabetes- Cardiovascular disease - kidney diseases
Indrajav Ext. : Useful as warmicide useful in Amoebic Bacillary dysentery & Colic pain
Jambu Bij Ext. : Contains glucoside jamblina, that have the power of checking the pathological conversion of starch in to sugar
Chirayata Ext. : Antipyretic, useful in Acidity Lymphainopathy, corrects metabolism Normalize blood sugar
Karela Ext. : Stimulates secretion from pancreas and lowering peripheral blood Sugar
Mahamejva Ext. : Bitter tonic reduces blood Sugar mildly.
Methi Ext. : Has hypoglycemic effect and lipid lowering properties. It regulates glucose metabolism & stimulating liver activities.
Neem Patti Ext. : Bitter tonic, has wound healing and Anti Inflammatory properties Helps to stimulate pancreas secretion. It is prophylactic in micro-anginapathy.
Nagarmoth Ext. : Corrects metabolism overcame excessive thirst.
Shuddha Shilajit : It helps in oedema. It has tonic effects. Its all time useful in DM and all time useful in Diabetes mellitus.
Gokshur Ext. : These herbal medicine is diuretic as well as improves heart functioning.
Devdar Ext. : This is herb play good role in simple as well as in infectious type of diarrhea.
Katuki Ext. : This herbal medicine is appetizer, digestive and carminative too.

Actions :
Insulin mimics effect for optimum peripheral utilization of Glucose
Reducing the total insulin requirement by delaying Glucose absorption from intestine
Activates pancreas to secrete insulin without risk of hypoglycemia better management of diabetes mellitus
Helps regeneration & repair of islets of langerhans
Effective in both obese and not obese, and also reduce the cholesterol
Use of Glyoherb offers no risk of nephrotoxicity and hepatotaxicity in short or long term usage

Benefits :
Regulator Glucose & lipid metabolism as a adjuvant in management of thus help Diabetes mellitin
Overcome fatigue, urination & excessive thirst and tones up body
Tones the function of never � Eyes & kidneys
Synergistic or Adjuvant to oral anti hypergolic caemic & insulin therapy
Anti � oxidant � Cardio � protective neurotonic
Acts as lmmunomefulator � anti microbial

Dosages :
1 Pouch before / after breakfast.
1 Pouch before / after dinner.

Packing : Box Packing 60 pouch

Note :
Prices are subject to change without prior intimation.
One should use these products under Ayurvedic Practitioner consultation.
Read More...
Looking for "
Glyoherb Sugar Control Granules

" ?
Box